Studying sustainable construction: Mark receives the HM Queen Margrethe II Travel Grant
Five students from Aarhus University will soon be venturing out into the world to expand their academic, social and cultural horizons. One of them is Mark, who is studying civil and architectural engineering, specialising in energy and indoor climate.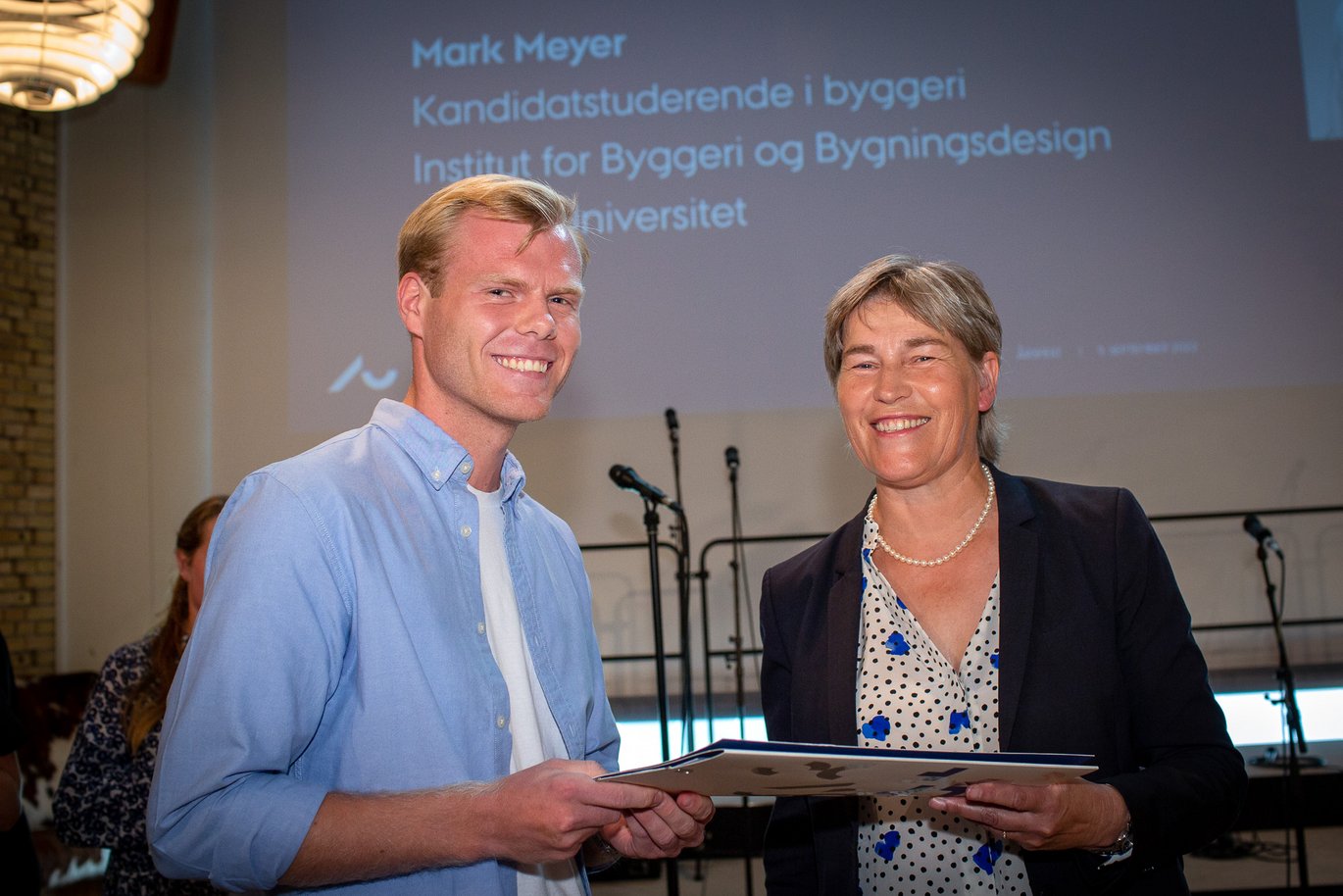 Many congratulations to 24-year-old Mark Meyer, who is studying for his Master's in civil and architectural engineering at Aarhus University, Department of Civil and Architectural Engineering. He has just started on the second semester of his Master's, and in six months he will be going on an exchange trip to Milan.
Together with four other students from AU, Mark has just received the HM Queen Margrethe II Travel Grant 2022, which was presented by Pro-rector Berit Eika at the university's annual celebration in the Main Hall on 9 September.
"I'm delighted to receive the scholarship, and I'm really looking forward to studying in Milan. Both for the academic and the social life, and for all the other experiences I will enjoy during my semester abroad. It's going to be great!" he says.
(The article continues below the video)
Mark actually wanted to be a vet at first. He was born and raised on a trout farm on the outskirts of Nørholm Hede – a thousand-hectare Natura 2000 area a stone's throw from the village of Sig near Varde. And if it wasn't for a one-week study trial as a civil engineer in connection with his Higher Technical Examination (HTX) in Esbjerg, he might have been too.
However, during the trial, he gained insight into a completely different world about sustainable construction, recycling and energy optimisation, and he ended up applying for an engineering degree programme in civil and architectural engineering at Aarhus University.
"I was very unsure when I started. I wasn't entirely certain that I wanted to be a civil engineer, but once you start, one day follows the other, and suddenly you find out that it was probably the right choice after all," he says, and continues:
"Working with something that's always evolving and which constantly changes things in the construction industry is very exciting. You can really develop and rethink many things in this industry, and that appeals to me a lot."
On the fourth semester of his Bachelor of Engineering programme, Mark also decided to specialise in energy and indoor climate. He has taken this interest on to his Master's, and he will be studying the same subjects in the spring during his exchange at the Polytechnic University of Milan.
He is looking forward to concentrating 100 per cent on student life when he arrives in Italy. Today, he has a student job at Søren Jensen Rådgivende Ingeniørfirma, and with his family, friends and a girlfriend back in Esbjerg, there is not much time left.
The HM Queen Margrethe II Travel Grant is DKK 25,000, and it will help to finance the trip and stay in Milan. Mark will be travelling with two other civil engineering students from his year group, and both of them have also decided to study in Milan.
---
About HM Queen Margrethe II Travel Grants
The travel grant was established in 2010 as a present to HM Queen Margrethe on the occasion of her 70th birthday and was extended in 2012 to mark the 40th anniversary of the Queen's accession to the throne. A total of five grants are awarded. At Aarhus BSS and Arts, the grants go to students of political science and archaeology – the two subjects that Her Majesty studied during her time as a student at Aarhus University in 1961-62. No restrictions with regard to subject apply to candidates from Health, Natural Sciences and Technical Sciences. The 25,000 kroner travel grants are intended to make it possible for their recipients to study abroad in connection with their studies at Aarhus University.