Two Aarhus University entrepreneurs on the list of the world's best
From tiny houses in Holstebro to day care centres in Ukraine: 3DCP is the name of Denmark's first 3D print turnkey contractor and its founders, Hasan and Mikkel, are both recent graduates from Aarhus University. They've now been added to the Forbes 30 Under 30 list and the reason for that lies in elite sports, motivation and the combination of tech and business. And maybe a bit of luck.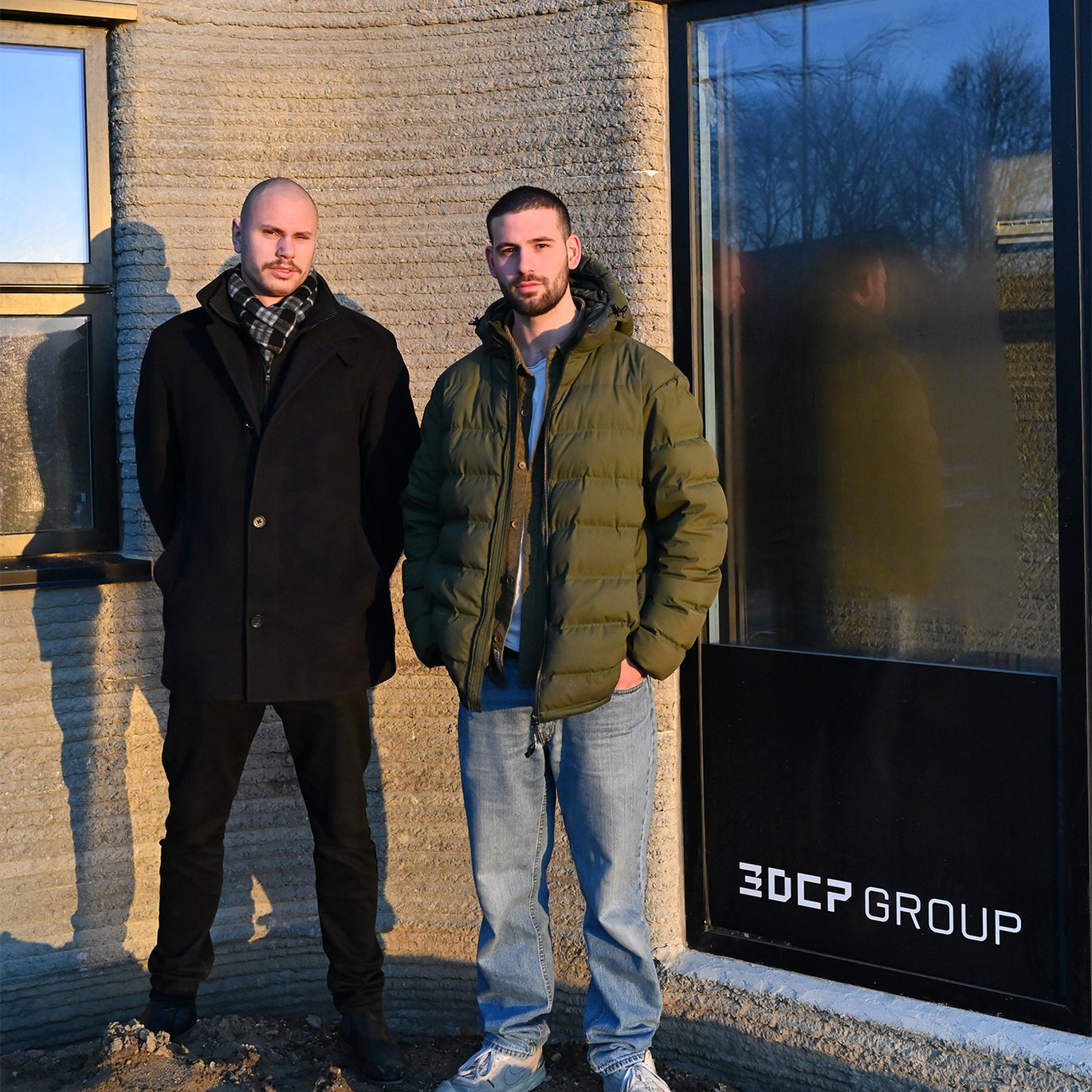 "When we first took the leap into entrepreneurship, we had no idea just how hard and merciless it would be. We were pretty naive when we took the plunge, which I think really reflects on who we are as people. The distance from thought to action wasn't far, and that's been incredibly useful within the world of entrepreneurship."
Those are the words of Hasan Alsofi, who graduated in January 2021 with a degree in civil engineering. Shortly before that, his friend Mikkel Brich had graduated with a Master's of Science in Business Administration and Commercial Law. Both graduated from Aarhus University and both were elite athletes within different sports where if you don't put in the work you'll never win: Mikkel within sprint and Hasan in the hammer throw.
They were friends when they threw themselves head first into their startup 3DCP. However, they did not know much about entrepreneurial environments or startups.
"I think there's a lot of luck involved. Luck tends to find those who look for it, and there's no doubt that we've been lucky along the way. And we owe a debt of gratitude to the many people who helped us on our journey. You also need a good idea, good timing and lots of gumption," says Hasan.
And they had the idea: Hasan had come up with the idea of 3D printed buildings during his studies. Together, they wanted to kick-start this new technology that had made small inroads into the construction industry, but which had never managed to make a proper impact. Hasan and Mikkel wanted to establish Denmark's first turnkey contractor in 3D construction and it all started on a construction site in Holstebro.
Together with the municipality and a number of companies within the industry and supported by a knowledge collaboration with the Department of Civil and Architectural Engineering at AU, Hasan and Mikkel built Denmark's first 3D printed tiny house: A small 37sqm architect-designed home was ready in 2022, and the small building has since received a great deal of publicity in both Denmark and abroad.
"Things started happening very quickly after that, we've worked on several other construction projects such as homes in Guatemala and day care centres in Ukraine. I don't think any of us could have predicted two years ago that this would happen but it's incredible to feel like you're approaching some of the goals you set for your life, and perhaps even doing it slightly ahead of time," says Hasan.
In February 2023, Mikkel and Hasan were included on the Forbes 30 under 30 list of the world's most entrepreneurial young people.
"We are so honoured about being included on the list, and it makes us even more motivated to make an impact on the construction sector," says Hasan Alsofi.
He continues:
"I believe that we are a good match because of how different we are and because of our shared interest and past. We've both been athletes, which made us both incredibly result-oriented, but as people we are very different. I am good with people, managing a construction site and the more technical aspect of the work, while Mikkel is more analytical and strategic and takes command of things from behind the desk. This is where our different degree programmes come into play. Technology plays an increasingly important role throughout society, and there are many good technical solutions waiting to be invented. With the help of the business community, many of these ideas can come to fruition."
Despite their success, Mikkel and Hasan are struggling with a very conservative industry and are facing fierce scepticism about 3D printed buildings because of the use of concrete.
"It's about utilising concrete for what it's good at, and not using an ounce more than is absolutely necessary. And this is exactly where 3D printing can be helpful. Using concrete with 3D printing is a springboard to a new way of building, a way that may not use concrete at all. Experiments with other materials are already underway, For example, straw, mycelium and clay," he says and continues:
"We believe that 3D printing will have a role in the construction industry in the future. The technology allows you to build better, faster, greener, cheaper, and with fewer architectural limitations while also eliminating heavy and repetitive lifting. What's not to like?"
---
Contact
Jesper Bruun
Journalist
Mail: bruun@au.dk
Tlf.: 42404140