The "tech tent" opens at Denmark's Political Festival
Once again, AU Engineering participates in the annual People's Meeting (Folkemødet) in the "tech tent" together with the other technical universities in Denmark. Thursday at 12, the tent officially opened with chemistry shows, quizzes and speeches.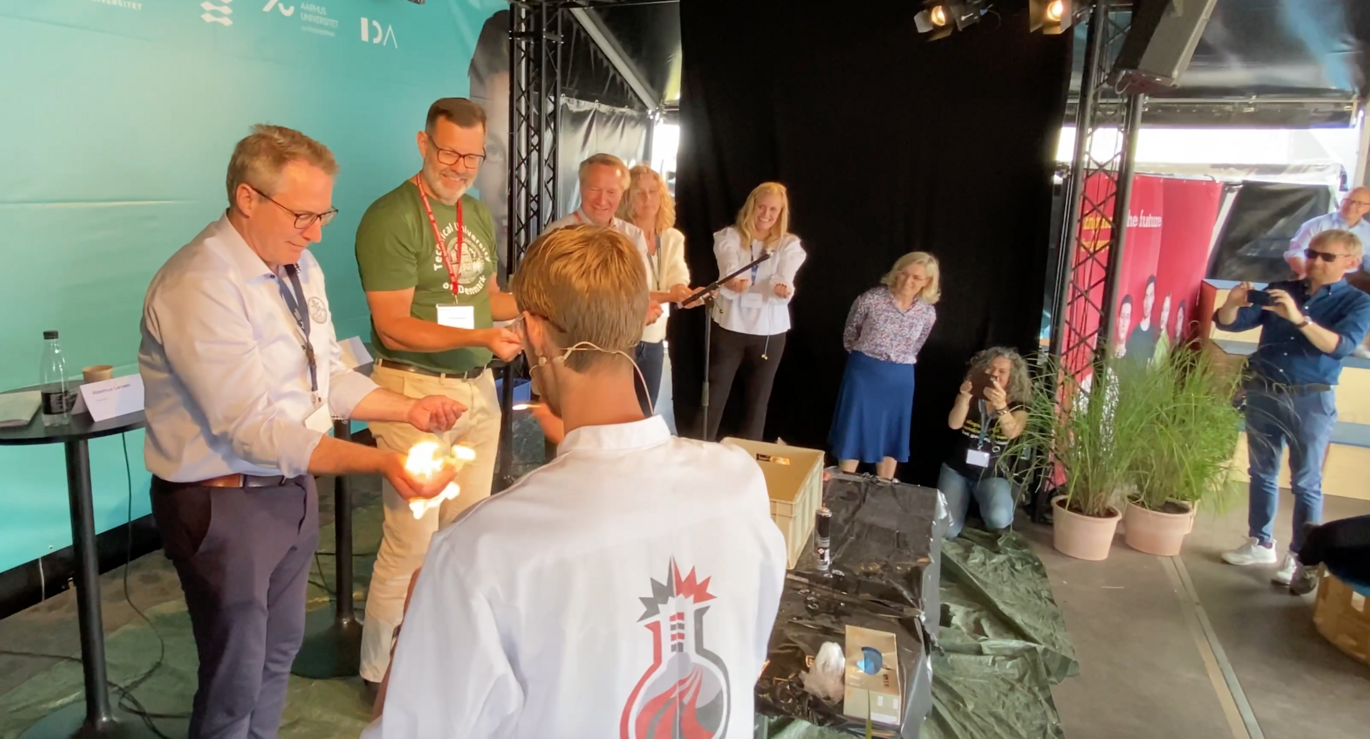 A fire of enthusiasm has to be ignited in the young, because there is a great need for them.
This was the whole point of the science show that opened the Tech Tent at Denmark's Political Festival on Bornholm on Thursday, where the Danish Society of Engineers, Engineer the Future, and deans and pro-rectors from the Technical University of Denmark, the University of Southern Denmark, Aalborg University and Aarhus University fanned the flames by talking about technology and science.
The deans and pro-rectors were asked about new and existing technologies that could have a major impact on the future, on the green transition and on the UN SDGs.
Eskild Holm Nielsen, dean at the Faculty of Technical Sciences at Aarhus University, focused on remote sensing technologies, which can be used in environmental and nature monitoring, smart farming, industry and much more.
He linked to the debate taking place on the beach below the Tech Tent on Thursday at 15:00 called "good framework, good collaboration – SMEs and universities", where research and development of remote sensing has made a big difference for a specific development project in collaboration with a company.
But now thoughts about the young, the engineers of the future, were most prominent. Several engineering students from AU Engineering have joined Denmark's Political Festival, and some of them have taken the Tiny Earth project with them to show it to the public and invite visiting school classes to join in.
Tiny Earth is about solving the problem of antibiotic resistance – one of the most important health problems facing the West, and which is becoming increasingly serious as years pass.
The aim of the project is to find new antibiotics, and thousands of school pupils and researchers from all over the world are involved in the project, which basically involves taking soil samples from many different locations and seeing whether new forms of microorganisms emerge that may produce antibiotics humans can use in the future.
"It's exciting to see school pupils visiting us and taking part in the project. There's a great need for engineers, and we have to start with the young. This project could be an exciting catalyst," says Eskild Holm Nielsen.
A total of four school classes are taking part in the project over the three days on Bornholm, and everyone can visit the Tech Tent to hear our students talk about the project and its perspectives.