Creating anticlastic architecture using Newton's laws
Valentina Beatini, architect from the University of Genoa and PhD from the University of Parma, is a new assistant professor at the Department of Engineering, Aarhus University. Her research is focused on building strange shape constructions using high friction masonry.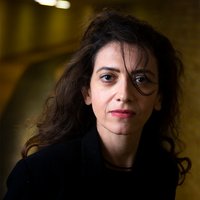 On a small hilltop in north-central Italy, right in the middle of Tuscany, lies a small village. Known as "the town of fine towers", the place is famous for its more than 500-year-old high-rise architecture.
The skyline dates back to the Middle Ages, when two competing families built ever taller houses culminating in 72 towers up to 70 metres tall.
The village is called San Gimignano and is an ancient jewel of building design held together by one thing: masonry. And like so many other brilliant pieces of medieval built Italian history, it played a major part in why Valentina Beatini – the newest addition to the civil and architectural engineering research team at the Department of Engineering, Aarhus University – became an architect.
"In Italy, wherever you go – even in the smallest village hidden in the most remote location – you are surrounded by architectural beauty. Diffuse block-built beauty, which has been lived in and left unchanged for centuries because it worked. And still works. That is quite amazing in my mind, that people were able to create cities and streets and spaces a thousand years ago that is still appealing to the modern community today," she says.
Valentina Beatini is a new assistant professor at the Department of Engineering. Today, her research is focused on anticlastic architecture using high friction masonry and zero mortar and on innovative modular structures able to add meaning and value to the contemporary building landscape.
(The article continues below the picture)
Hyperbolic paraboloid. Graphics: Wikimedia Commons.
She is currently working on a hyperbolic paraboloid (hypar) shaped structure. But any structure can theoretically be achieved, she explains:
"The idea is to use friction and compression to create spatial structures with no mortar. Simply blocks that are held together by the laws of physics," she says.
---
Contact
Assistant Professor Valentina Beatini
Mail: valentina.beatini@eng.au.dk
Phone: +45 93522182